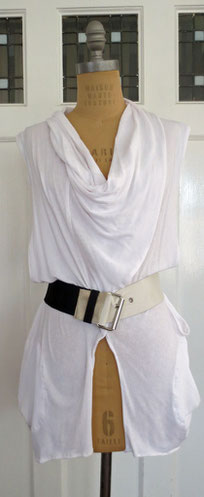 Leading the crusade of sustainable fashion design alternatives that can succeed against the powerful economic force of the fast fashion industry is a daunting task that few cottage industries are willing to embrace. It is much more common to see the fast fashion power horses inking out sustainable public interest practices (see http://theswatchbook.offsetwarehouse.com/2015/04/21/what-is-greenwashing/) that lend credence to their adoption of the industry's newest environmental concern. All practices that reduce environmental pollution and impact, and advocate human rights are the step in the right direction, but it will take a lot more to change this industry than just the powerful production engines implementing changes that pay lip service to the media's thirst for new alternatives.
Emerging designers that are practicing, evangelizing, and succeeding in bringing this new Slow Fashion Movement to market, need to bring their own voices to the forefront of this crusade, and partner together to create a fabric of sustainability that can't be reckoned with. That Rome was not build in a day is applicable here. Great ideas, things, cities, and markets take a long time to germinate and grow. This 'grass roots' effort is no exception.
For my part of this crusade, I have designed a line of clothing, I am blogging, tweeting, building communities and exhibitions, and finding like minded individuals.  I am also taking my wares to market and vending at the local street fairs.  While this effort involves a tremendous amount of energy to set up and tear down, with sometime paltry results in both sales and public awareness, nothing daunts the spirit as much as a paltry remark.
One of the designs I was featuring at the front of my booth at the Livermore Art and Wine Festival in early May, was the white vest pictured in the photograph above.  This vest is a 'knock off' of one designed by the Israeli designer Alembika.  It's a complicated design, it took three tries, and each attempt took four or five hours to cut and sew.  

This particular vest attracted attention throughout the two days of the fair.  One such admirer, who said, "wow, I really like this" and, after glancing at the price tag, exclaimed "but not for $135.00!!!" 
I didn't ask her what she did for a living and how much her hourly wage wage was, but I can assure you reader, that it was most definitely higher by a factor of 'a lot' than what she was willing to pay me for my design skills that brought this vest to her attention in my booth.  Not to mention my overhead expenses for vending at the show.  Booth and license fees = $416; Hotel = $270; Meals = $200+; Gas and mileage $67.20.  Not to mention my husband and I put in 10 hour days when we do these fairs. 
I realize this woman had NO IDEA what went into producing that garment she so rudely dismissed, but there really is no excuse for her ignorance, or pardon for her paltry remark.  Does she think for example, when she finds that cheap sexy pair of turquoise jeans at H&M, "I wonder if child labor was involved in producing this pair of jeans", or "I hope the dye used to produce this wonderful color has not polluted the waters supporting local farms."  No dear reader, I don't believe for a second this shoppers mind entertains these thoughts.  But the sad part of this story is that she should.

Regardless of whether your clothing is produced locally or overseas, it is, I believe, an ethical responsibility to know where they come from and what efforts and resources it takes to get these items to market. The hidden costs are, unfortunately, all of ours to bear. 
When the day is done, who pays to clean up the environment damage left in this Industry''s wake?  Who pays to support the families who's wage earners are killed in unsafe factories?  And then back to the paltry remark that created this story line, who paid me to write this article?  It takes a lot of crusaders working for little to nothing, or working for a wage of passion, to etch out a new market so that the one we are competing against, fast fashion, withers and dies.
Darcy