Slow Fashion, Featuring Recycled, Up Cycled, and Re-Purposed Clothing Design
This exhibit, featuring three shows in addition to this one, opens at the San Jose Museum of Quilts and Textiles July 11th.
PRFoundMadeFINAL.pdf
Adobe Acrobat Document
531.8 KB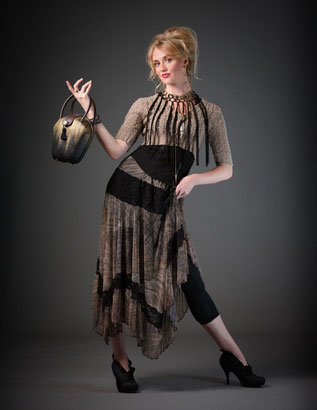 See the PDF Press Release above for more information on these three exhibits, and/or visit http://sjquiltmuseum.org/exhibitions_upcoming.htm to learn more. 

The exhibit represented by the photo on the left (outfit D'Arcy Couture; accessories Sassy Feet; Photograph Sam Breach) hopes to present environmental facts facing the fashion industry, and showcase alternatives. 
Fast Fashion, while its economic value is powerful, pollutes the environment with toxic wastes as well as mountains of discarded clothing, and fosters unsafe and unethical manufacturing practices. This exhibit showcases a collaborative collection of clothing and accessories produced locally by six California artists, using slow fashion methodologies. Come and celebrate the work of designers and artists Darcy Fowkes, Margot Silk Forrest, Destiny Carter, Jill Pillot, Angela Elsey, and Marirose Jelicich, and enjoy their unique creations.
This Slow Fashion Exhibit is designed to offer its visitors an alternative to the toxic industry that Fast Fashion has become.  For the world to turn to healthier solutions, these alternatives need to be understood and easily adopted.