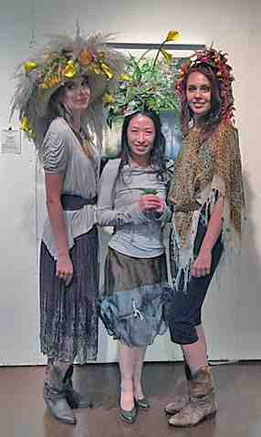 For the recent Art Party Pivot Fashion Show at the Santa Clara County Fairgrounds, I partnered with Stella Shen to create a distinctive look from head to foot that would stand out from the crowd.  This show was to feature the work of over two dozen designers and artists, so I wanted to light a fire under my line with the help of this floral headdress artist. 
As you can see, without the head pieces, Ella Ananieva, Stella, and Andrea Lynch would not have stood out, and when it comes to any stage performance, the bigger you exaggerate any appearance, the better it will be remembered. 
I was interacting with one member of the audience after the show who commented on the hat designs, and while I introduced her to Stella, she wanted to acknowledge my role in the event as the clothing designer.  All I could only say that 'It took a village', because we all had our hands in this performance.  And while all of the designers are key to the content of the show, it would not happen without the producers, and most importantly, the backbone of any fashion show, the models! 
Darcy