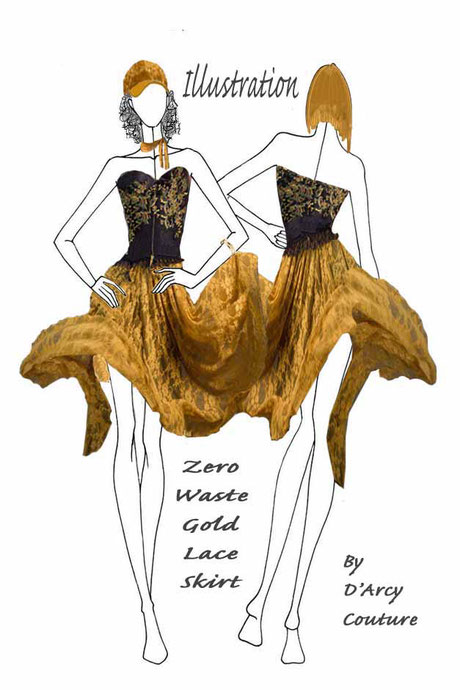 PATTERN MAKING
Because I do not use patterns in my design work, I think that others must not use them as well.  But I forget that one of the biggest cornerstone of home sewing are the patterns!  They are as important as the zippers, the thread, not to mention buttons and snaps. 
Sew I have decided to introduce a line of patterns that feature particular aspects of sustainable fashion design.  My first pattern, illustrated on the left, is for a Zero Waste Outfit, a circle skirt, neck scarf, and baseball hat.  This pattern uses a perfect square of fabric, plus 2" for the neck scarf (or 5" if your fabric is not reversible), so if your yardage is 42 inches wide, you will want 44" of reversible length, or 47" of non-reversible fabric.  
The beauty of hats are that they protect you from the sun without requiring sun screen, which does not always agree with everyone's skin.  The beauty of having a hat/skirt and neck scarf outfit is that you do not have to think about how to put it together when you are standing in your closet trying to decide what to wear.  You put it together by the virtue of buying a pattern that takes you through making this ensemble step-by-step.  Enjoy!