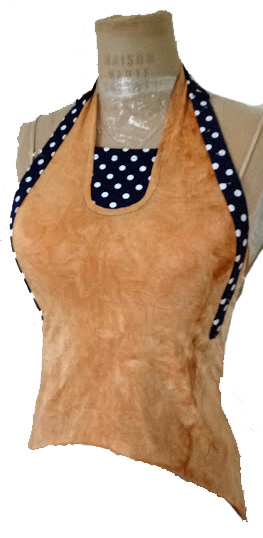 Personally, as a woman in my mid sixties, finding a suitable bathing suit for a cruise is nothing short of a nightmare. Not to mention the fact that more than one would be nice. This category of women's wear is designed for women under 35 who's bodies do not show signs of child birth. Fortunately for the plus size models these days, they get as much, if not more attention from designers as the women under 35, but for me, not fitting in either of these categories meant I had to wing it.
After unsuccessfully looking for a ready-to-wear suits, I searched the fabric sites, and found little in the way of suitable bathing suit material.  I determined that not that many seamstresses out there try this sort of project.  So I decided to visit my local second hand thrift store to see if there were any bathing suits I could use for fabric, and fortunately found a large size tankini top in navy and white polka dots, that had enough fabric for me to make a high waisted bottom featuring 'full coverage'. 

Once I had the bottoms, I thought I could buy a ready-to-wear top, but it turns out that navy is a hard color to match.  My navy was deeper and darker than what I could find to complete my bathing suit. I tried searching on white, but white was too much contrast, so I was back to the 'drawing board'.  I tried making something out of a matching navy and white stripe jersey, but the clown effect was just too prominent. I might have to wait for the right thing, whenever or whatever this was going to be.
On a separate note, I went through my closet and found a tie dyed lycra tunic that never fit right, so I decided to cut it up.  It was a nice summer orange, and could be useful on the cruise, so I made a pair of pants.  After finishing these, I played around with what I had left so see if it was possible  to make a bathing suit top, after discovering that it looked good with the navy and white polka dot fabric.  At the end of the day, I had a top unlike anything I have ever seen before!  And I liked it!
While the curve of the hemline of this top was an accident, it does an excellent job of narrowing the waist.  It accomplishes this by the semi circular shape being narrower at the waist and curving out toward the hips at the side of the body.  I will definitely use this again in my design work!!
Fashionably Yours,
Darcy