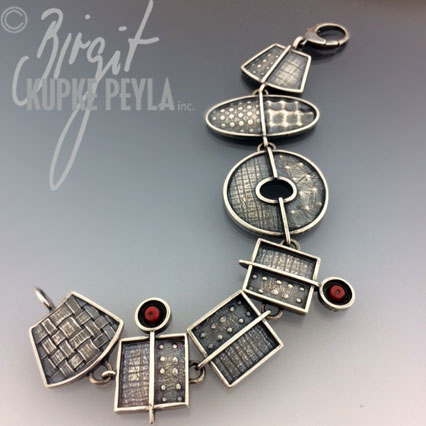 Birgit Kupke-Peylais is a central California-based jewelry designer who works in gold and silver, often combining both metals in her designs. Her designs are bold, clean, and feature geometric components that are simple, yet dramatic.   Her work impressed me in particular because her pieces are both stunning and surprising. It is not just sufficient to take in the beauty of one of her pieces; her work calls for you to experience the surprise element in each and every one of her compositions.
Birgit views fashion as a vehicle to separate ourselves from the uniformity of 'the norm'.  By expressing ourselves by our choice of style, we show the world at a glance who we are. In Birgit's own words, "The frivolity of fashion nurtures our desire to stand out and apart from one another, celebrating our individuality!"
According to Birgit, sustaining creativity requires a constant search for renewal.  She uses sketches to chronicle her ideas, and then saves them for when she has time to execute.  She admits that there are many more sketches than time to execute, but we think that's why her final product is so amazing…she only executes her most compelling ideas!