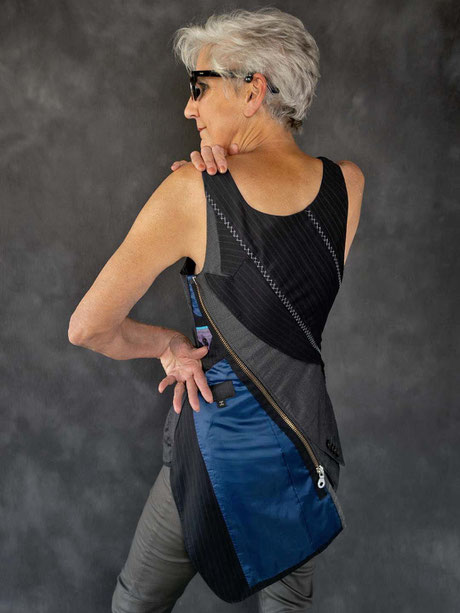 Atelier Jolie has the Slow Fashion horse by the reigns. Realizing that the purest form of fashion is art, her vision resonates like a bird song, clear and sweet above the machinery racket created by the Fast Fashion Industry. The power of customization is both simple and yet astounding. We are after all, each and everyone of us, individuals unlike anyone else. Why then shouldn't our clothing have some of these characteristics? Why on earth do people dress like each other? Isn't each day you wake up a miracle of life? Perhaps thinking about how you dress yourself can be a reflection of your own individuality and self worth.
Angelina Jolie wants to build a community of creativity and inspiration to seed this vision. Slow fashion (tailoring, repairing, repurposing, recycling, redesigning, using dead bolt and discarded fabrics) be integrated into this plan. As an evangelist for Slow Fashion, I nominate a very talented designer from Sydney Australia, Tamie Anthas (brand name Digitalkittn) to help her spearhead this effort.
Anthas has most definitely demonstrated innovative and groundbreaking talent. Her commitment to Slow Fashion by using dead bolt fabric, bolt ends, and discarded fabric and clothing in her designs cements her qualifications to participate in this community. 
But more than just wearing the hat of sustainability, and practicing the methodologies and practices of slow fashion design, Tamie brings the vision of an artist to her creations. Her ability to paint a garment with the tailoring features of an existing garment is unprecedented. I commissioned Tamie to make me a vest, with only two requirements: 1) a patten she had to follow for fit, and 2) I wanted the vest in a grey/blue/black colorway. What she delivered was breathtaking.

To bring you the personality behind this astonishing design, I interviewed Tamie Anthas to learn more.
Q) Tell us your earliest dream about becoming a designer, and what the circumstances were that inspired this dream?
A) I was about 9 or 10 years old, watching my mother put makeup on, and wearing, at the time, the latest 80's fashion trend. My mother knew her fashion, and wore it impeccably. I was enthralled by the attention she received, or maybe more accurately, the power fashion had to attract attention, to demand the admiration of strangers.
Q) Is there a history of creativity in your family, or did you alone carry the torch?
A) Again, my mother is my role model for creativity. She could throw together the most amazing outfits, and she always looked fantastic. She was as good as the best of the world's accomplished painters, only her art was 'the art of dress.' She painted her self with her clothes.
Q) When did you learn to sew, and when did the concern about the environment factor into your design direction?
A) I started practicing sewing at the age of 12, and thankfully I was young and resilient enough to not let the learning curve of sewing (broken needles, skipped stitches, ribbing out seams) disappoint me. It wasn't until college when I saw"The True Cost", a documentary by Adrew Morgan, that my design direction took a turn toward protecting the environment. Education is everything, and I don't believe that anyone can walk away from this film without wanting to see serious change in the fashion industry.
Q) When you need design inspiration, what do you do, or how do you get it?
A) I get inspiration from everywhere, depending on what I am looking for at the time. This includes listening to music (ie Enigma, Deep Forest, Enya), watching movies, going to art shows or exhibits, or even observing what is right in front of me on the street or in a park can be theater.
Q) Would you recommend a fashion design degree for aspiring designers?
A) Absolutely! My education definitely has boosted my  career, by not only teaching me how to work well with others, but also valuable skills and techniques that I depend on in all of my design work. Pattern making is a good example of a specialized skill set that would be difficult to learn on your own.
Q) What advice would you give yourself if you could turn the clock back 10 years?
A) My advice would be to trust myself, to be self-confident and  speak up, and have a voice, especially when it comes to subjects that I strongly believe in. After all, the only way people can learn how to support you, is when they hear you support yourself!
Q) Where do you want to be in the next 10 years?
A) I want to be successful enough to be able to open a design studio with a shop front, participate in Sydney Fashion week every year, and teach awareness of sustainable and eco-friendly design production.
Q) Do you have a vision of how the fashion industry will evolve to achieve more sustainable goals and objectives over the next 10 to 20 years?
A) Well I certainly hope that consumers become more aware of the destructive impact fast fashion has on the environment, and consequently invest less in these clothes. As quoted by one of my favorite designers Vivienne Westwood "Buy less, choose well, make it last".
Designer Tamie Anthas
Photography @suzmcfaddenphoto