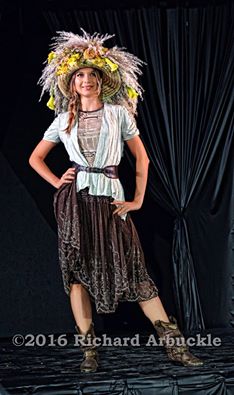 At the Pivot Fashion Show at Mark and Anne's Art Party in 2016, the cameras (and audience) loved Ella, our model pictured on the left.  In a crowd of 12 models all wearing beautiful hand crafted hats, one  attendee came running over as she picked Ella out from our crowd of fashionable beauties.  While it is obvious her hat, designed by Stella Shen (stellafloral@yahoo.com), is sensational, it is important that our outfit supported rather than coordinated with this floral creation.
What this boils down to is that the hat takes center stage in this ensemble, and that the outfit supports the head wear rather than competing with it, or for that matter, matching it.  If we had dressed Ella in yellow or green, the outfit would have cheapened, ruined, or tarnished the elegance of the hat. Instead, by dressing our model in the softer hues of the grasses supporting the blooms in the hat, the color pop of the flowers speak for the entire ensemble.
This is a good rule to follow if you do not want to be challenged with coordinating different prints and colors, which is hard to do tastefully.  The term 'color pop' refers to a digital image in which part of an image is shown in color, while the rest of the image featured in grey or a dull monochrome. In fashion, using color sparingly, but dramatically, can often be a key to creating drama without going overboard.

Photographer Richard Arbuckle