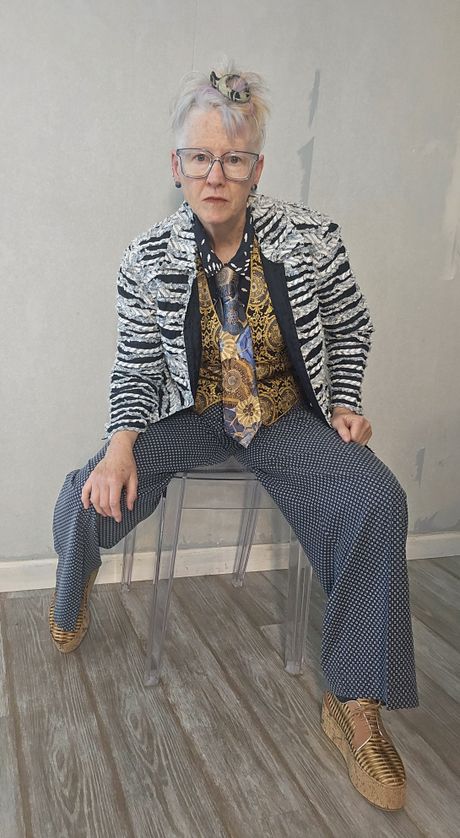 My favorite Fashion Artist has , up until now, consisted of one artist, Raven Amber, who I have featured in this group a number of times. She is colorfully brilliant, and curates a whimsical bohemian fairy princess vibe with her makeup and clothing.
Now added to this list, who Sandra Gail Taylor tagged as "Assemblage fashion … when textiles, shapes, colors, styles, patterns reunite as long lost friends" is Elliott Night, who specializes in pre-loved clothing. Thrift stores are her outlet for slower fashion AND provide her with plenty of combinations and permutations to impress us with. Frankly, I can't even imagine being able to dress so uniquely using department store or even boutique merchandise.
You can see her creations on her page at https://www.facebook.com/elliott.night, or in the FB Group Iris Barrel Apfel; Who says old broads can't look fab? She also posts in Moody Maximalism: Clothing Edition. I scanned her media outlets and prefer her own page for more of her 'looks'. 
Very different from Amber's style, Night prefers a more tailored and androgynous profile. Amber seems to prefer combining and juxtapositioning colors and pops of colors to accomplish her unique artistic style; Night is a master at putting textures and patterns together. In addition, Amber knows just how to pose for her most flattering figure and facial profile. Night is all about the drama when she models her fashion. In other words, she is a total 'hoot'!
I hope you enjoy Night's ensembles as much as I have!