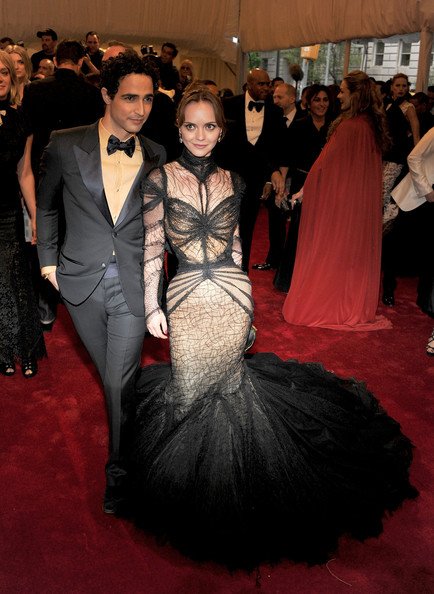 I found this article on my FB feed (http://www.livingly.com/The+Most+Daring+Met+Gala+Dresses), and was curious to find many of the comments on the post were critical and condescending.  I read comments like 'who would be caught dead in any of these gowns', and 'don't these actresses have mirrors to look in while shopping for this event', to 'goes to show you that even actresses don't have to have taste.'  And while I agree that some of these creations wore their wearers rather than the other way around, the design versatility and innovation illustrated by the fashion worn at this event is not only spectacular, it is beyond amazing.  I would challenge any of those commenting to try their hand at designing any one of these ensembles.
I particularly like Christina Ricci's Zac Posen's gown illustrated here (she is one of the best dressed throughout the Met Gala Balls in my opinion), but if you go to the link above, check out the gowns by J. Mendel Couture and Thakoon!  Also check out Karolina Kurkova in Rachel Zoe, and Anne Hathaway in Valentino!  Both stunning beyond belief.
However, the outfit that stole the show for me was Lupita Nyong'o in Prada, from the head band to the shoes, and everything in between.  I won't give away the surprising choice of color of her outfit, so you will just have to see for yourself ;-).