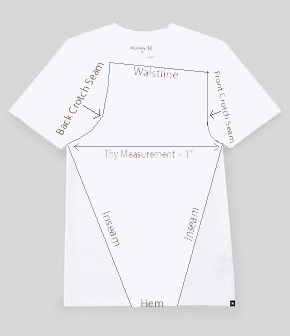 You will need two t-shirts that are wider than the circumference of the top of your thy, measured from under arm to underarm, across the width of the t-shirt (see illustration). One will be your pattern, the other your sample garment.
1) Sit on a hard surface, and measure from your waist to the top of the surface. This will be the approximate depth of your crotch seams (+ seam allowance and 1/2" for elastic at the waist). Your curve will be shallower in front than back, depending on where you carry weight. If your tummy is larger than your rear, your pattern will reflect the opposite. If your body carries equal weight in front and back, this curve will be similar, you can adjust after you sample is made. 
2) Measure waist and divide by 2. Place a ruler under the crew neck, marking waist length + seam allowance. You will have to guess where the front and back crotch meets the waist on your first pattern, but if you have an accurate waist measurement (divided by 2), and accurate thy measurement, these curves plus your assessment of where you carry weight in front and back should give you a good first try fit. Mark your waist points with a sharpie at the front and back.
3) Measure t-shirt from crotch line to hem line to determine the length of capris, then measure from your own crotch to this length to determine the width of pants at the hem. Divide by 2. 
4) Fold your t-shirt in half, matching side/shoulder seams and sleeves. with the front waist point on top. Cut your front crotch seam using the illustration as a guide, cutting from under the t-shirt's sleeve to front waist point as illustrated. You want a right angle when you start your cut, and a right angle when you are cutting the waist line (in #6 below).
5) Mark hem line from fold using leg measurement divided by 2. Cut from top of crotch to hem line using a straight line, or straight up from the hem and curving gently toward the crotch. This cut can be perfected more when your sample is made and you fit the garment to your body. And again, try for a right angle at the hem and top of crotch (illustration is a bit misleading at the hem).
6) Now open the t-shirt up for the last 2 cuts, the waist line and the back crotch. Cut a straight line from the front crotch point to the back crotch point. Now cut your back crotch curve, as generously as possible, and you can remove fabric much easier than you can add.
7) Baste you pattern t-shirt together before cutting you sample garment. With right sides together, sew front and back crotch seams. Then fold front and back crotches right sides together and stitch the length of both leg's inseams. Try on inside out, so you can pin the adjustments you want to make to the pattern.
For your final garment, cut a piece of elastic for the waistband that is smaller than the waist of the garment (and comfortable around your waist), and zigzag raw edges together into a circle. Mark or pin the elastic in half, then again to get 4 equal quarters. Match your front and back crotch seams to determine pant side seams, and pin. Matching crotch and side seams with elastic points or pins, fold raw waist band over elastic, stretching elastic, and zig zag in place. Hem bottom of pants, or leave raw. Enjoy!