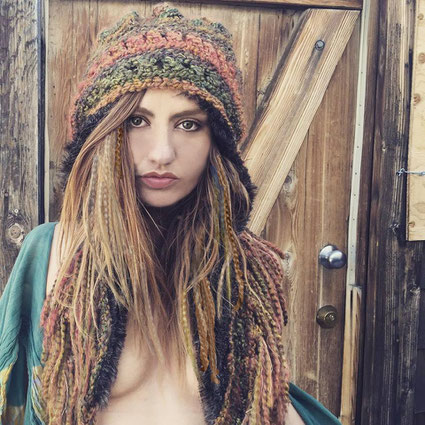 This woman, Morgan Levay (and my daughter), makes fabulous hand knit winter hats.  She lives in Truckee, where the winters are harsh (in terms of most California communities), and where she relishes the opportunity to bring creative solutions of warmth to her community. 
Each hat is unique in its color combination, as well as the embellishments she adds to every creation.  They all feature long fringe and ear flaps lined with fur, and are adorned with crystals and/or semi precious stones, specifically designed to enhance the artistic intrigue of each work of art.  They are lightweight and roomy, so comfortable to wear without adding weight to your hairstyle underneath.
Morgan has an inventory of styles and colors you can pick from.  I like the fact that she does custom work, as I am always looking for very specific color combinations to go with specific fashion pieces or ensembles!