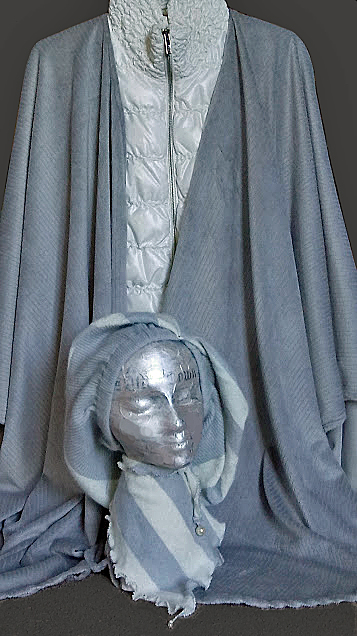 People tend to wear darker colors in the winter, although I am not sure why.  This Michael Kors white vest 'hand-me-down' from my stepmother inspired me to experiment with softer colors for a winter look. In order to look for specific blends and colors of sweater knits to up-cycle into a winter hat, I shopped on Swap.com, a second hand store web site that allows you to shop using very specific search criteria. 
I found the sweater I wanted to use, but I wanted more drama for my ensemble than just a vest and hat, so I hauled my sweater to the nearest fabric store to find something suitable for a cape.
I try to stay away from non-sustainable solutions when I am designing, but because the color match was critical to the outcome of this ensemble, I made this an exception to this rule. And the match and soft hand/drape of this velour made me feel OK about breaking my rule.  
So if your winter wardrobe only features dark colors, you are missing out on a variety of fashion opportunities that incorporate whites and softer colors.  Especially if your winter activities include snow sports.  Blending into the snowy landscape can create some incredible photo shots, as the background does not get upstaged by your darker fashion.  Try it, you'll like how you look!!!