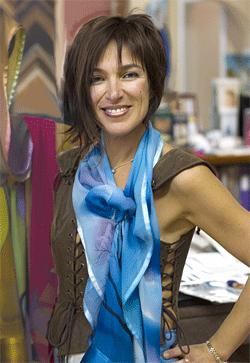 San Francisco based Natasha Foucault is a fine art painter who uses silk as her canvas and dyes as her paint.  Internationally traveled, she curates her exotic encounters with the world at large into her collections.  They take you far corners of the world, and now, with the Bay Area as home, Natasha has added images of the California coast and countryside to her repertoire.
Natasha's works on silk have been exhibited and sold in both museums and commercial galleries throughout the world. In 1995 she had a one-woman exhibit of her silk painting and wearable art at the Silk Museum in Holland. She received second prize at the First International Silk Painting Congress in 1998 for Excellence in Silk Painting and The Best of the Show Award both at 2004 and 2006 Silk-In-Santa Fe Festivals.
Her new book, "Silk Diary, An Artist's Journey from Moscow to Mendocino", co -authored with Jeanne-Michele Salander, combines a collection of Natasha's silk art, stories of her life as an artist, and her signature painting techniques.  Natasha's paintings are also prominently featured in Susan Moyer's book "Silk Painting for Fashion and Fine Art".