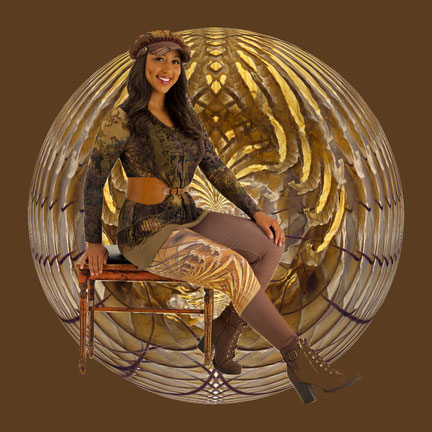 https://www.darcycouture.com/medallion/Model Deja Vigil adds depth to our medallion fashion photo shoot, featuring the work of Sean Sato, a photographer from Modesto, CA, and Ken Fowkes, a photo enthusiast from Mountain View, CA.  Ken created the medallion from a photo of a single dried oak leaf. The resulting image was then transferred onto fabric to produce the ball cap and leggings that Deja is wearing.
The exuberance that Deja portrays in front of Ken's medallion is so infectious, it epitomizes the essence of being 'Over The Moon' for me. She brings her rich personality to Ken's medallion, giving it a voice and a story. My fashion helps to tie the knot, the icing on the cake so to speak.
We gave the shoot the name of 'Turning Over a New Leaf' to exemplify the process of starting over. For Ken, starting over meant reforming his simple leaf image into a magnificent medallion. For Slow Fashion Designer and sister Darcy, starting over is a core value of her design philosophy, working with discarded clothing and accessories to create new fashion.
The fashion industry is in dire straits today as the second biggest polluting industry in the world, after oil. It is urgent that designers and consumers worldwide pursue conscientious strategies to reform this industry from the top down and the bottom up. Our effort in producing Turning Over a New Leaf https://www.darcycouture.com/medallion/https://www.darcycouture.com/medallion/https://www.darcycouture.com/medallion/(https://www.darcycouture.com/medallion/) was to urge you to tackle this goal with creativity and enthusiasm!      https://www.darcycouture.com/medallion/  https://www.darcycouture.com/medallion/https://www.darcycouture.com/medallion/https://www.darcycouture.com/medallion/https://www.darcycouture.com/medallion/https://www.darcycouture.com/medallion/https://www.darcycouture.com/medallion/https://www.darcycouture.com/medallion/https://www.darcycouture.com/medallion/http hhhhs://www.darcycouture.com/medallion/