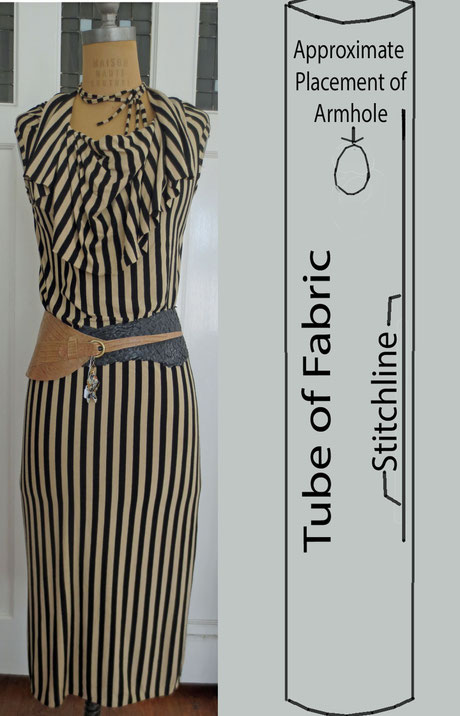 Use a jersey knit fabric for this dress. No hemming required. Your fabric will be the width of your hips, + your seam allowance; the length will measure from your shoulders to hemline + 10 to 12" depending on. how much drape you want in front. You can always cut off extra unwanted length, but you cannot add, so keep this in mind.
Fold fabric in half, right sides together. Baste stitch this tube together about 10 to 12"" down from the top and 10 to 12" up from the bottom. You will either add to this seam or remove stitches to adjust your fit. Finding the right placement for the armholes, getting the drape you like in the front, and ending the back seam at the base of your neck is a bit tricky, so you can wing it, or try the dress on inside out over your arms, and get some help pinning safety pins on the dress where the armhole should go, and the back neck seam (and slit in back hem) should end.
If you want to 'wing' it, you can measure the dress from the desired hem line to your underarm, and start your armhole there. Measure the depth of this hole (shoulder to underarm) and cut this circle right in the middle of the tube between the fold line and the seam. I do this by folding the tube in half again, matching the center fold line with the back stitch line, and cutting a half circle out there. Try on inside out and adjust. Once you have the correct back seam in place, overstitch the basting stitch and reinforce at the top and bottom.
Finish the armholes with 2" strip folded like a bias tape, or sew the the strip right sides together around the armhole, leaving room for a seam under the arm, and fold and hand stitch to the stitchline on the inside.