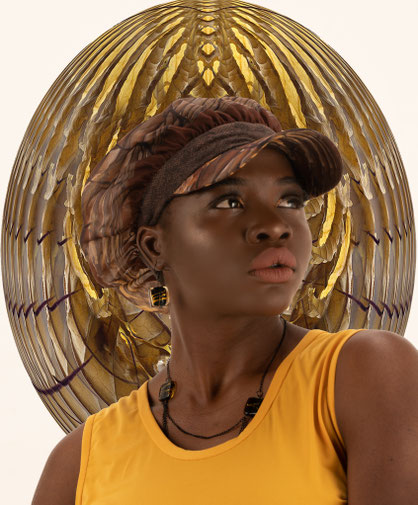 Vigilant Sutherlin is a print and runway model who has blessed the stages of Bay Area fashion shows and California photography studios for years. She astounds her audiences so consistently, she has become one of the most sought after models in Northern California. Her talent for theater is breathtaking, and her photographic ambiance remarkable; the camera loves her.
Vigilant was part of a recent design team effort 'Turning Over a New Leaf', a project featuring the photographic art work of Ken Fowkes, and captured by Modesto Fashion Photographer Sean Sato. In this picture, Vigilant is wearing a cap made from fabric featuring Ken's art medallion, which he created from an image of a dried oak leaf. The medallion is also pictured behind her, framing her portrait.
'Turning Over a New Leaf' exemplifies what can be created from the discarded, which is what the project designer and stylist believes is a lesson the fashion industry should learn from. Fast Fashion is now the second biggest polluting industry in the world today over oil. Slow Fashion designer Darcy Fowkes would like the fashion industry to see the potential of creating beautiful wearables with discarded clothing and accessories, and zero waste byproducts.