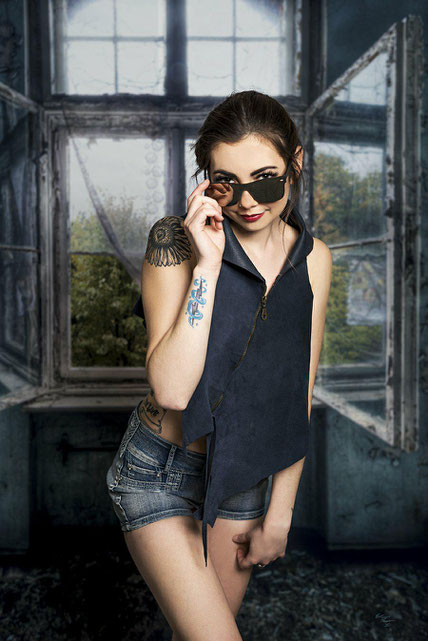 Stormy Rangel, Rachael Boyd (two models from Tuolumne County) and I, met up with photographer Edewaa Foster (II Pix Photography) at his studio in Sonora last weekend for a winter fashion photo shoot. We had originally proposed to do this outdoors in the snow, but the logistics of changing (and staying warm), deterred me from this plan. So we agreed to do this in his studio instead. But when we got there last Saturday, it was 70 degrees outside!  We all agreed it would have been a challenge in this unusually warm February to have found snow, even at the nearby ski resorts.
So, grateful for the surprising and welcome warmth of this fantastic Saturday, in the middle of winter in Tuolumne County, we pulled out the sun glasses and went for a taste of summer instead!  Posing in front of garden windows, Stormy modeled her favorite item in my collection (we shot 12 ensembles in 3 hours), this navy leather vest, fashioned from the remnants of another project. 
One of the goals of Slow Fashion is to support 'ZERO WASTE' in the creation of garments.  This vest was designed from the remnants of a custom designed belt for an architect, who wanted an attractive, professional utility belt, that would hold all of her design tools.  The belt was a success, and, as we can see, so is the vest designed out of the remnants!  Kudos to Stormy for bringing this to life in this fabulous photo, turning seeing into believing.