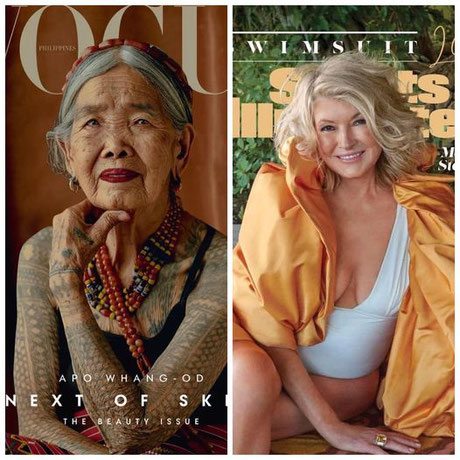 Yes, the image of Martha Stewart is disturbing. And after reading everyone's reaction to these two pictures side by side, I get the the disturbed reaction to Martha's and not Apo's image. Martha, in her 80s, looks decades younger, and when placed side by side with candid media shots, she has been misrepresented. The media outrage has to do with the notion of beauty. There is beauty in age. It is not reserved for the young only. Seeing the beauty in Apo makes this abundantly clear.
But then again, comparing the two is not particularly fair. Sports Illustrated misrepresented Stewart, yes, but how often does a 106 woman that looks this good grace the cover of Vogue? Stewart had no hope of winning this competition.
Reality checking helps in this discussion. Vogue has been in the business of covering beauty, fashion, and lifestyle for 131 years. Sports Illustrated's first Swimsuit Edition was released 59 years ago, and only features models, celebrities, and athletes. Again, Stewart represented a well known celebrity/model, not a standard of beauty.