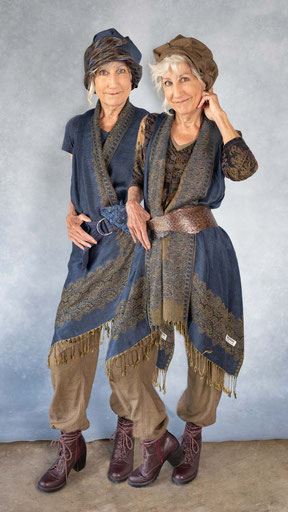 Designer Darcy Fowkes dresses identical 'twin' models in the same garments coupled with different tops and accessories  to illustrate how extensible a few core garments can be. In this photo above, Darcy couples a repurposed pashmina scarf with baggy hammer pants (made from damaged linen yardage) as her core ensemble. 
Both outfits are coordinated with different tops, hats, and belts. The outfit on the left picks up the blue in the vest, for a more spring/summer look. This outfit's cloche style hat is trimmed with a thrifted men's silk tie that also picks up the detailed pattern on the vest.
The outfit on the right supports the brown colorway in the ensemble and a longer sleeved top for a more fall/winter look. Fish leather belts in blue and brown add detail at the waist for final accessory touches.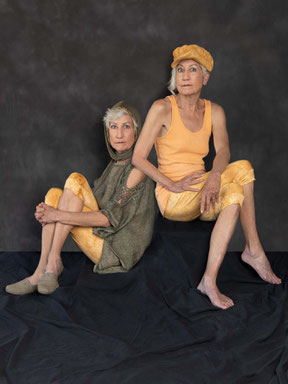 In this photo both models are wearing home sewn tie-dyed jersey capris coupled with two different tops and headwear. The oversized green linen top on the left is accessorized with a green snood scarf, repurposed from a t-shirt. The thrifted orange tank top on the right is accessorized with a hemp linen cap designed from seasonally discarded upholstery samples. 
Again, the outfit on the left features fall colors and styles, while the one on the right is clearly a summer ensemble, complete with bare feet! Just by adding these two tops and their corresponding head wear to this one pair of pants, these capris can now be worn from summer to fall.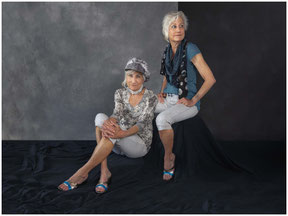 In this photograph Darcy dresses the twins in a pair of repurposed capris cut from a thrifted pair of bell bottoms. Darcy tops the outfit on the left with a gifted, altered top, and a matching cap and neck scarf designed from a piece of scrap lace. The model on the right wears a thrifted tissue jersey cap sleeve top with a coordinated thrifted scarf. Sandals are upcycled/painted with Jacquard Lumiere leather paints.
While both outfits are indeed summer attire, they do not look anything alike. Refreshing one pair of pants/capris with different 'looks' helps us keep our clothing out of landfill. 
All three photographs illustrate how extensible any one item of clothing can be when you style them into different looks. This is an effective tool for updating core garments, keeping your wardrobe fashionable fresh all year long. Bottom line: by thrifting and repurposing, you can use extensibility to practice sustainability. 
Photo Credits: Suz McFadden